04 Mar The Widely-Accepted Hiring Practice That Kills Your Bottom Line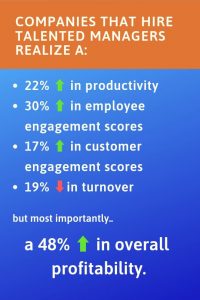 Many of us have had the pleasure of working under ineffective managers at one point in our professional lives.
Ineffective managers come in many forms, but they usually have the same detrimental effect on the workplace – your staff becomes disengaged and less productive under their leadership, resulting in decreased customer satisfaction and lost profitability for your company.
If you've ever caught yourself wondering "How did this person get hired/promoted in the first place?" We have the answers you're looking for.
Gallup reports that there are two primary reasons people are promoted to managerial positions:
They've been successful in previous non-managerial roles
They have tenure in the company and years of experience in the field
While these practices are widely accepted and determine the majority of hiring decisions, you may realize neither criteria indicate whether a person has the soft skills or talent necessary to effectively manage others.
Conventional hiring methods are unsuccessful because the critical element they look for can't be found on a resume – talent.
Data shows that managers account for at least 70% of the variance in employee engagement scores in a given organization. Chances are, over 2/3rds of your ship is "sinking" when an unqualified captain is at the wheel. Clearly, hiring the right managers is a major factor as to whether or not your company becomes increasingly profitable as time goes on.
Unfortunately for your team, the talent required to be a great manager is rare – only one in ten people have the many skills necessary to make a well-rounded manager. Slim pickings, especially when you're not exactly sure what you're looking for.
Management advisory company CEB estimated that the average vacancy cost equates to $500 a day per open position. How long can your hiring team afford to search for qualified candidates before your company starts taking a serious financial hit?
White Label Solutions
Sourcing, screening, and interviewing all of the candidates required to find even one effective manager is an overwhelming process, especially when that time and energy can be put to use bettering your brand in other important ways.
Fortunately for your team, ORS knows talent, and we have a demonstrated history of finding it. Take it from the 70% of our clients that end up returning for future engagements or refer our services to other companies.
Many of our clients have had great success adopting our innovative White Label Recruiting Solutions, where ORS becomes your in-house recruiting function. Our consultants work closely with your leadership team and human resources department, crafting a solution that addresses your company's unique business goals and hiring needs.
Sounds like what every other recruiting firm offers? Not quite.
With ORS' White Label Solutions, our consultants become your brand ambassadors. They carry your business cards, assimilate with your company culture, and work on-site with your team day in and day out in order to better understand your distinct needs. Every aspect of the talent acquisition process is handled for you, from candidate sourcing to retention management.
Without rigorous screening and hiring processes in place, you're taking a shot in the dark to fill positions that will make or (more realistically) break your company.
Don't leave major hiring decisions up to chance – let's scale together today.