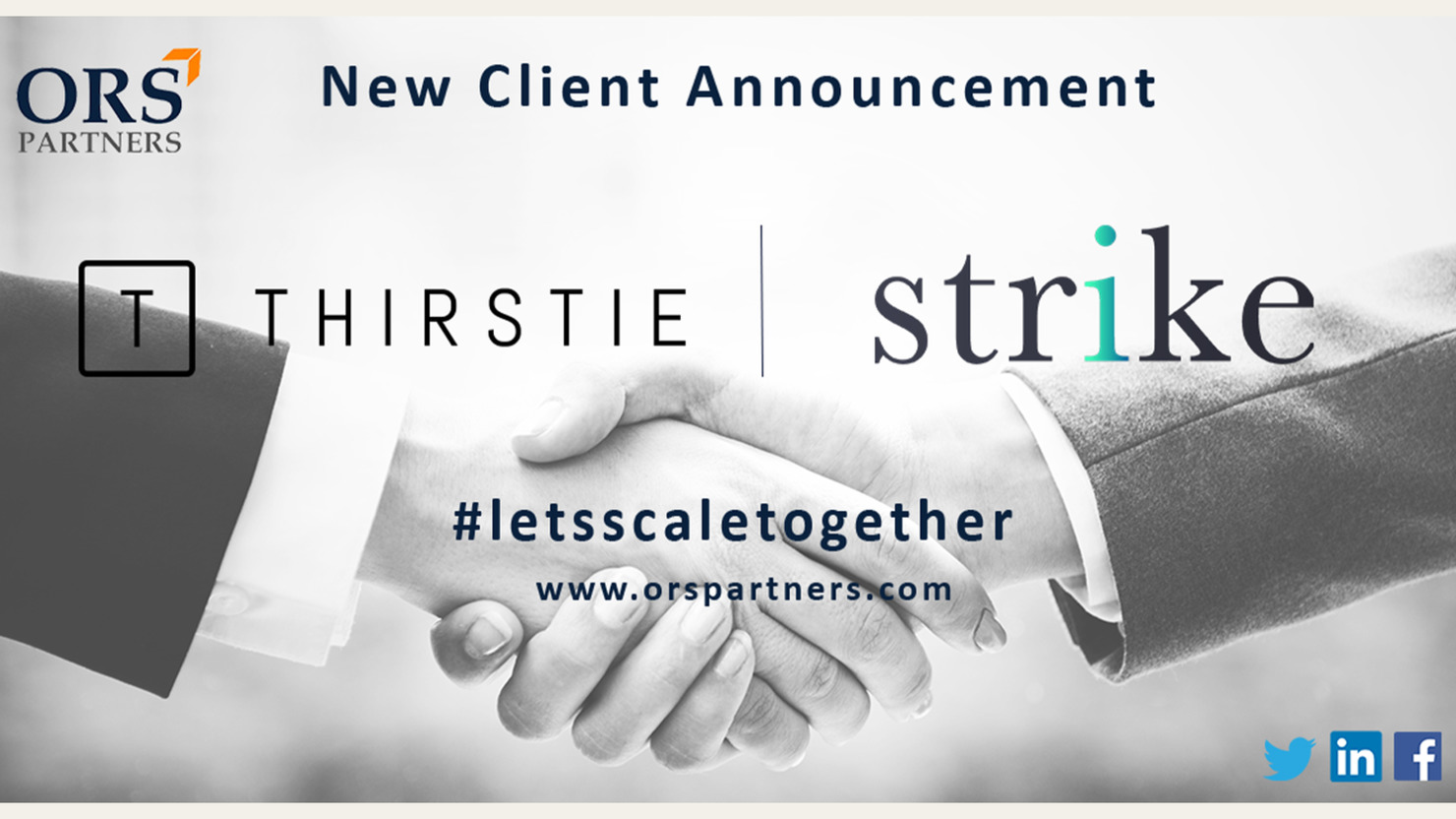 28 May New Clients Announcement: Strike Derivatives and Thirstie
Strike Derivatives, Inc. and Thirstie have chosen ORS Partners to lead their talent acquisition functions. Both companies are based in New York City and will benefit from ORS' industry-leading white label talent acquisition solutions in order to scale and grow their businesses.
About Strike Derivatives
Strike Derivatives is a financial technology company. They develop markets infrastructure and exchange technologies for use in the cryptocurrency ecosystem. Their goal is to be the preeminent source of trustworthy trading and digital assets markets. They chose ORS for their robust service offerings and experience: "Their track record of building and scaling venture capitalist (VC) and private equity (PE) backed companies has provided us with an instant competitive advantage to finding and attracting top talent in this market." -Charlie Walden, Co-founder and CTO
About Thirstie
Thirstie is a white label enterprise platform that offers an e-commerce solution to liquor brands, which are legally prevented from selling directly to customers since prohibition. They are the first and only company that integrates directly with liquor brand websites in a legally compliant way and makes it possible for brands like LVMH, Moët Hennessy, Clos19, Beam Suntory, Makers Mark, ABIn Bev, Drinkworks and others to transact directly with consumers.  Thirstie has been recognized by WSJ, NYT, Forbes, Business Insider, CNBC, Fox News, and TechCrunch as the leading alcohol delivery platform in the U.S. Thirstie chose ORS Partners for their market expertise: "ORS brings a strong team with years of experience in the technology and sales recruiting industry. We knew when it was time to look for new talent, there was no better choice than ORS Partners. They are handling the internal talent acquisition function so we can focus on growing our business. We have complete trust in ORS and their capabilities." -Devaraj Southworth, Co-founder and CEO
Founded in 2012, ORS Partners provides a full-service "white label" talent acquisition solution designed to drive company growth. From building and leading the entire Talent function to Executive Search, ORS is the leader in scaling VC and PE backed companies nationwide. ORS is also proud to announce that 16 clients have experienced successful liquidity events after utilizing our services.
ORS CEO, Terry Williams, sums it up best "Our White Label Model allows our consultants to become brand ambassadors, able to tell the company story, attract talent, and partner with company leadership to scale their respective businesses."
Contact us to set up some time to talk about how we can help grow your business.