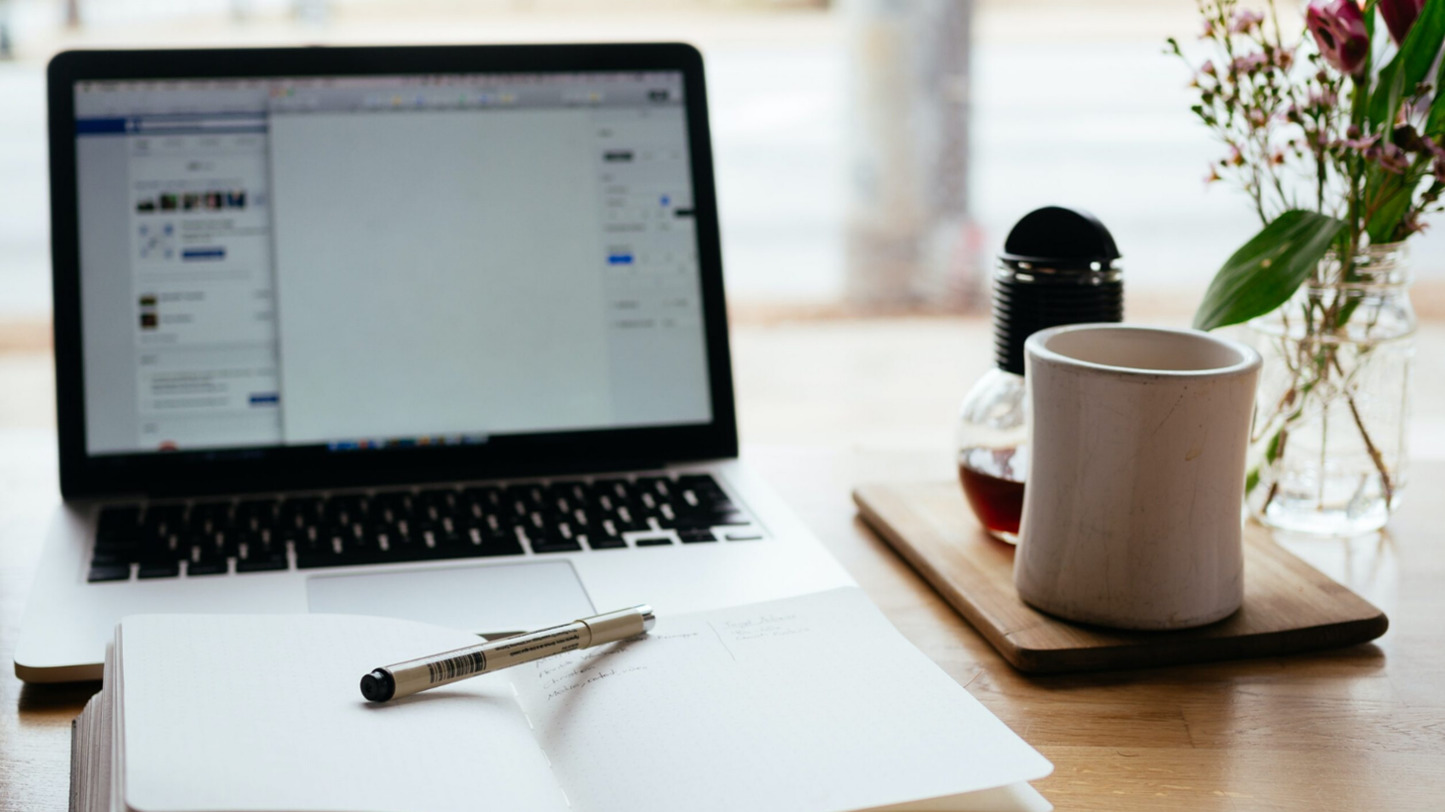 14 Apr How To Optimize Your LinkedIn Profile for Job Search: 9 Tips to Accelerate Your LinkedIn Job Search
With businesses scaling back around the world due to Coronavirus, a large amount of the workforce is currently searching for their next job. Because of necessary social distancing measures, most of your job hunt will have to occur online.

LinkedIn is an obvious source for potential opportunities, as the tool is used by professionals in all industries, including hiring managers and recruiters searching for candidates. If you're on the hunt for a new job, LinkedIn may help you with your search.
To make the most of LinkedIn, there are certain steps you can take to make it easier to find opportunities. Use these tips to optimize your LinkedIn profile for your job search. 
Update Your Profile
Use Keywords
Add Your Location
Use Job-Seeking Language
Update Your Privacy Settings
Add Job Preferences
Alert Your Connections 
Follow Companies You're Interested In
Search on LinkedIn 
Update Your Profile
If you're searching for a job, now is the perfect time to update your LinkedIn profile. Some of the most important parts to keep updated are your headline and summary. The headline gives people a quick glance into who you are and what you're looking for – it should draw readers in and make them want to read more. 
When they do read more, your summary is a good place to expand upon your experience, skills, what you're looking for, and what you're passionate about. Your summary should be your elevator pitch. This is also a great place to include more content and keywords on your page so that recruiters and hiring professionals can find you. 
Your current and past job titles are also a good section to optimize. Many believe that job titles weigh heavier in the LinkedIn search algorithm, so having the right job titles listed may help you find similar opportunities. Expand upon any current or former job titles with descriptions to include more keywords that recruiters might be searching for. 
Aside from updating your profile for search optimization, you should also update it with any new experiences, new skills, and other updates. Make sure all sections are filled out thoroughly and accurately. Check for any typos or grammatical errors, and consider your personal brand and how you want to present yourself to prospective employers.
There are a few important things to consider when updating your profile sections. 
Use Keywords
LinkedIn's search tool uses search engine optimization similar to those on search engines like Google. It is powered by keywords, so including job title keywords and important industry keywords will help others find your profile more easily. 
By keywords, we're referring to any important terms, titles, or phrases that someone, such as a recruiter or hiring manager, might search to find candidates. On LinkedIn, you can use keywords in different sections of your profile so that professionals in your industry can find you.
Include keywords that are specific to your experience, skillset, and what you're looking for. If you are an experienced web developer looking for a new opportunity, you'll want to use keywords like "web developer", "website developer", "software developer", and so on – if there are a few different ways to title your position, try to include variations in your About section to cast a wider net so that your profile can show up in more search results.
Include keywords that relate to are any relevant skills or accomplishments. Using the same example, a web developer may include keywords relating to programs they are fluent in like Java, HTML, or platforms like WordPress, SquareSpace, and so on. 
If you're not sure what keywords to use, try looking at job descriptions for your previous job or for the types of jobs you are interested in. The qualifications and responsibilities listed may make good keywords to include in your profile.
Add Your Location
Hiring managers and recruiters don't want to waste time finding the perfect candidate that lives halfway across the world – that's why most (if not all) search based on location. Be sure to include your location in your headline and About section. 
If you are willing to relocate, be sure to mention that as well. Try to be specific if you are only willing to relocate to certain areas. Mentioning certain cities, areas, or regions by name can make it easier for opportunities in those areas to find you. 
Use Job-Seeking Language
Finally, make sure to make it clear that you are searching for or open to new opportunities. Use phrases such as "seeking", "open to", "actively seeking", or "available for" in your headline and summary. Using these job-seeking phrases along with the right keywords and location will make it easier for the right positions to come to you. 
Putting together job-seeking language, industry and career keywords, and location will optimize your LinkedIn profile's content for search. Here are some examples:
Experienced web developer seeking front-end developer positions in the Greater Philadelphia Area
Marketing professional actively seeking digital marketing and content marketing positions in New York City
Open to opportunities as a financial analyst in Boston, MA; willing to relocate for positions in New England area
Actively seeking role in pharmaceutical sales in Southeastern Pennsylvania
Update Your Privacy Settings
You'll also want to make sure that your profile is public so that people can find you, and ensure that they are able to contact you. Under your privacy settings, you can adjust who can see your profile, who can access your email address, who can message and tag you, and more.
There are also privacy settings that can alert your connections that you are open to new opportunities, and even inform companies that you have their alerts turned on so that they know you are interested. 
Add Job Preferences
Aside from updating the content on your page, you should also update your profile's settings to let others know that you are searching for a job. 
On your profile, click "Add Profile Section" and under the Intro section, click "Looking for job opportunities"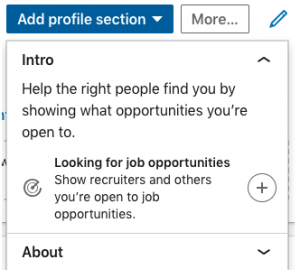 This makes it easier for those with opportunities to find you. Fill out this section with titles that fit the roles you are looking for and locations that you are available for work in (this can include anywhere you're willing to relocate to). Add multiple job titles to find more opportunities – some companies may have different names for titles, so try to include various options that fit your skills and experience. 
You can also choose who can access this information – either only recruiters or all LinkedIn members. The only recruiters option is typically for those who don't want their current employer to know that they are looking for new opportunities, so if you are currently unemployed then you may have a better reach if you choose all LinkedIn Members.
Alert Your Connections
LinkedIn is the perfect tool for digital networking, and you already have a network of connections if you've been using this platform for a while. Let your connections know that you are looking for employment – you never know who might have an opportunity to offer. You can also adjust your privacy settings to let your connections know you're looking for a job, or you can simply post a status stating that you are on the job hunt, detailing what kind of work you're interested in and your location. 
Follow Companies You're Interested In 
Follow and connect with companies that you would be interested in working for. You can adjust your privacy settings so that companies are notified when you follow them to make it clear that you are interested. Try to make connections where possible, or simply give them a follow to keep an eye on any open positions. 
Search Using LinkedIn Jobs
Optimizing your profile will make it easier for hiring managers, recruiters, and other opportunities to find your LinkedIn. To actively search, however, you'll want to be more proactive than simply updating your profile.
If you're searching for jobs on LinkedIn, the easiest way is by clicking the "Jobs" tab on the top navigation bar and then search for job titles, company names, or other keywords like skills and location to find openings.
You can also reach out to recruiters for help with your job search or advice on how to use LinkedIn for job hunting.
Another tip is to search for terms like "currently hiring" or "starting a new job" in the standard LinkedIn search bar. Search under "Content" to find posts about companies that are hiring. If someone just shared that they started at a certain company, it is clear that the company was recently hiring and may have other positions open. Get creative in your search to find more opportunities that may lead to your next job! 
Final Thoughts
Use LinkedIn as a networking tool to help you find your next career move. Optimizing your profile can make a huge difference in your visibility and make it easier for opportunities to come to you. Make these adjustments today to help you on your job search!