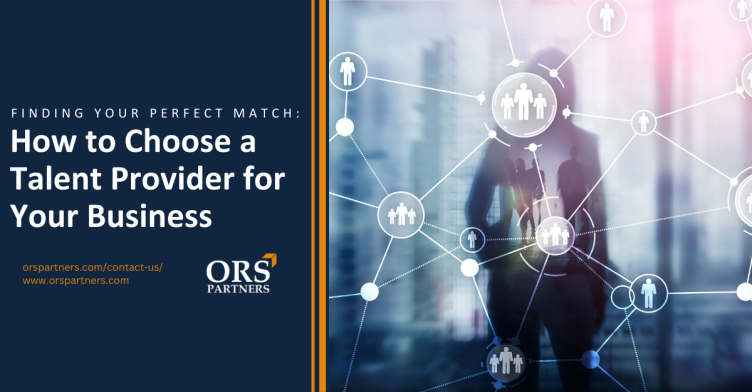 22 Jun Is Your Talent Solution Meeting All of Your Hiring Needs?
In today's competitive business landscape, finding and hiring the right talent is crucial for success. But with numerous options available, how do you choose the right workforce and talent solutions firm that fits your unique business needs? In this article, we'll guide you through the process of selecting the perfect total workforce solutions partner for your talent acquisition requirements, ensuring a seamless and effective recruitment experience.
Step 1: Define Your Recruitment Goals and Objectives
Before embarking on your search for a firm, it's essential to define your recruitment goals and objectives. Start by evaluating your talent acquisition needs from both macro and micro levels, involving all stakeholders and processes. Consider aspects like applicant tracking systems, interview questions, stakeholder communication, and hiring practices. Additionally, assess your organization's current recruitment technologies, including AI recruiting tools, social media platforms, and video interviewing solutions. These technological resources are vital for attracting qualified candidates, improving employee retention, and fostering productivity and innovation. To facilitate your internal strategic discussions, here are some sample questions to consider:
How can we attract top talent?
What strategies can we employ to retain top talent?
How do we compete with other companies for talent?
Are we attracting talent from other industries?
Step 2: Decide on the Type of Partner
When choosing a workforce and talent solutions firm, it's crucial to understand the different types of partnerships available. Staffing agencies typically handle temporary or permanent worker requests, sourcing, screening, and onboarding candidates. On the other hand, talent and workforce solutions firms serve as an extension of your HR department, owning and managing the entire talent acquisition process. Consider the following categories:
Strategic Partners: Comprehensive outsourcing workforce solution providers who manage the entire recruitment process for long-term engagements.
Partial Outsource Partners: Flexible Partners focused on meeting specific recruitment needs or goals on a short-term, as-needed basis.
Project-based Partners: Partners offering limited, specific scope for a finite period of time, typically aligned with specific projects.
Technology-enabled Partners: Partners providing technology-driven solutions to streamline the recruitment process, from candidate sourcing to onboarding. They may also exclusively serve as your technology provider.
Global Partners: Partners specializing in global recruitment solutions, supporting multi-country or multi-region recruitment needs.
Step 3: Research Potential Partners
During the evaluation process, consider the size and capabilities of potential firms. Ensure they can scale up or down per your changing business needs and possess a proven track record of success. Thoroughly research their history, experience in the workforce and talent solutions space, and the services they offer. Reading reviews and requesting references from current and former clients will provide valuable insights into their reputation and the experience of working with them.
Step 4: Ask the Right Questions during the Selection Process  
To gain a deeper understanding of a firm's suitability, ask pertinent questions during the selection process. Here are some questions to consider:
How do you ensure the quality of candidates presented to clients?
What is your approach to assessing cultural fit?
How do you handle challenges or setbacks during the recruitment process?
How do you stay updated with the latest recruitment trends and technologies?
Can you provide references from current clients?
What metrics do you use to measure the success of your recruitment efforts?
What is your experience recruiting for our specific industry?
Step 5: Ensure Goal Alignment
To establish a successful partnership, it's crucial that the workforce and talent solutions firm's goals align with your organization's objectives. Consider the following factors:
Do they understand your unique business needs and tailor their services accordingly?
Do they prioritize long-term relationships and aim to be a strategic partner rather than a transactional service provider?
Are they committed to helping you achieve your recruitment goals and contribute to your overall business success?
Do they demonstrate a genuine interest in your company's culture, values, and vision?
Are they flexible and adaptable to your changing needs and evolving market conditions?
Can they provide insights and recommendations based on their expertise to improve your recruitment strategies and processes?
Do they value open communication and collaboration for a transparent and effective partnership?
Step 6: Evaluate Technology and Resources
In today's digital age, technology plays a significant role in talent acquisition. Assess the partner's technological capabilities, including applicant tracking systems, AI recruiting tools, and other innovative solutions that streamline and enhance the recruitment process. Additionally, consider the resources they have available, such as access to a vast network of candidates, industry connections, and expertise in leveraging various platforms for sourcing and attracting talent. You should understand where these technologies are included or additive to your agreement.
Step 7: Assess Communication and Reporting Practices
Clear and open communication is vital when working with a solutions firm. Evaluate their communication practices with both clients and candidates throughout the recruitment process. Do they provide regular updates, feedback, and progress reports? Are they responsive to inquiries and concerns? Do they elevate the candidate experience and thus improve your organization's recruitment brand? Effective communication fosters a strong partnership and ensures you stay informed and engaged in the hiring process.
Step 8: Evaluate Commitment to Continuous Improvement and Client Success
A reliable workforce and talent solutions partner should be committed to continuously improving their processes, staying updated with industry best practices, and delivering exceptional results. Look for evidence of their dedication to client success, such as case studies, testimonials, or success stories from previous partnerships. Ask them how they assess and stay current with the continually changing landscape of talent acquisition tools, technology, and resources. A partner that actively seeks feedback and adapts their strategies based on client needs will be a valuable asset to your talent acquisition efforts.
Conclusion
Choosing the appropriate workforce and talent solutions firm is a critical decision that has a significant impact on the success of your company. By following these steps, you can make an informed choice that aligns with your objectives, streamlines your recruitment processes, and empowers you to attract and retain high-caliber talent. Remember to consider factors such as capabilities, industry expertise, communication practices, and commitment to continuous improvement. With the right partner by your side, you will be well-prepared to cultivate a skilled and flourishing workforce.
At ORS Partners, we strive to be that partner, providing comprehensive services, industry knowledge, and a dedication to helping your business succeed. We offer comprehensive total workforce solutions services to identify, recruit, and hire the best candidates for open positions. Our deep industry expertise and commitment to continuous improvement set us apart. With ORS Partners, you can unlock the potential of your organization and create a skilled and flourishing workforce. Contact us today at orspartners.com/contact-us/ and discover how we can support your talent acquisition needs.