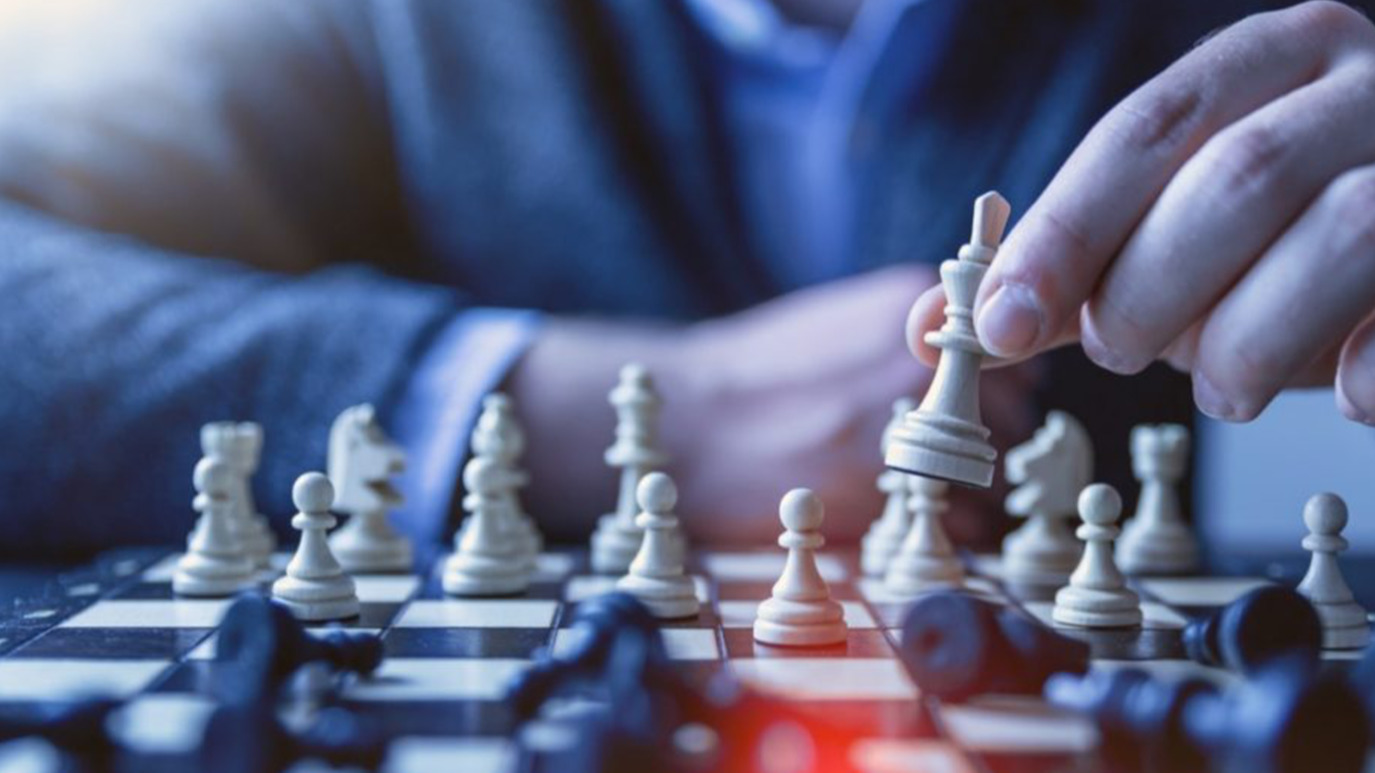 04 Jun The Evolution and Unforeseen Challenges of Hiring Within A Growing Startup
Whether your startup was born in a dorm room, in a co-working space, or as a spin-off from another company, eventually you'll require outside assistance to continue growing your venture.
Every successful startup will experience it's own unique hiring evolution, but it's undeniable – at some point the founders will have to decide when to begin the recruiting process and how it should operate.
It's not an easy decision to make – begin hiring too soon and you're spending money you should be allocating elsewhere, or begin hiring too late and you could end up a "50 million dollar company in the body of a 5 million dollar organization." As you can imagine, neither of these scenarios are beneficial for the future of your startup.
We'll begin this article by walking through the three distinct stages of a startup's growth, describing how hiring needs evolve while noting the hiring challenges entrepreneurs should expect to face along the way.
Emerging Growth
In the early stages of your startup, referrals are key to beginning the process of small-scale growth. You'll likely rely on friends, family, and past colleagues for your hiring needs, which is a very effective approach in the beginning of your venture. Referrals are an invaluable fountain of new talent and continue to be employers' top source of hires, bringing in a remarkable 30% of all hires overall in 2016. 
However, the law of diminishing returns holds true for this practice. At a certain point in your team's growth, the time spent combing through networks for referrals would be better spent developing other core business functions, especially when you're working with a small team.
At this point the primary focuses of your team should be further developing your product, working to find market fit, and attracting investor interest (which we've written a superb how-to article about.) These priorities leave teams with little time and energy to spend building a talent acquisition function, which is why many startups choose to outsource this process early on.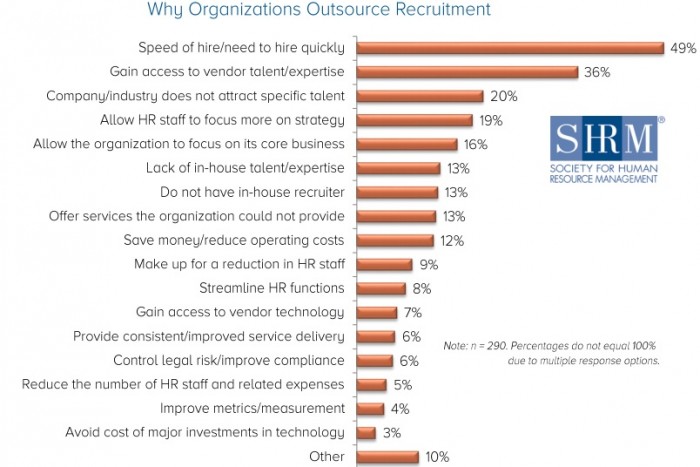 The chart to the right describes the many reasons organizations choose to outsource their recruiting function, with speed of hire being the most common motivation of all.
Organizations also commonly outsource recruitment services because they lack a strong employment brand and have difficulty attracting top talent as a result.
Most of the top reasons given are at least loosely related to time – lack of time to train your employees to become experts in the field, lack of time to devote to attracting specific talent, and a lack of time to devote to developing workforce strategy and core business functions. Allowing another entity to handle your acquisition needs can be a cost-effective method to finding the talent you require to grow efficiently.
Using your limited time wisely is important early on, which is why many startups choose to outsource recruitment for executive or specialized positions at this stage. Check out a full analysis of the SHRM study here.
Growth and Expansion
Congratulations – your venture has reached the expansion stage. You've secured significant funding from investors or are experiencing explosive organic growth.
Seasoned global venture investor Gil Dibner describes his view of the expansion stage succinctly in a recent Medium article.
"It's by far the most significant stage because it is during this stage that the company must complete a complex transition: from a company with a great offering that could scale to a company with a great offering that is rapidly and predictably scaling."
Talent acquisition is a core business function and should be treated as such – your sudden surge in hiring needs during this stage can quickly become your downfall depending on the quality of your acquisition function. If you've received funding to grow your business you'll have a board of investors to report to, and they expect detailed proposals on how you plan to handle your hiring needs.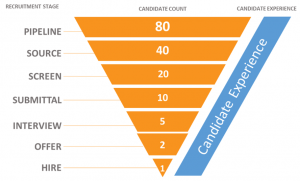 Ask yourself these questions as you begin growing: 
How do I continue to attract talented candidates?
How can I preserve company culture while hiring on a large-scale?
What should my interview, hiring, and onboarding processes look like?
Your hiring process should evolve to take these questions into consideration – while hiring qualified candidates is critically important, cultural fit plays a large role as you scale. Aim to hire a team that believes in the vision of your company.
Take a look at the chart above and you'll notice that the input required to hire one talented candidate is much higher than you might first expect.
One of the challenges you'll face during this stage is attracting enough candidates into your pipeline that you'll end up hiring qualified talent. Keeping that volume of resumes flowing in is no simple feat, especially when you consider the time and resources that go into sourcing, screening, and interviewing qualified candidates.
To draw out an example – an average interview takes 1 hour and requires 4 employees to conduct; your company is looking to interview 5 candidates for a given position. That's 20 hours of work that could've been dedicated to acquiring customers, further developing your product, or testing workforce strategy.
One benefit of partnering with a hiring firm at this stage is that they're able to provide an informative and detailed candidate experiencefor your applicants. Because employees in an early startup are regularly spread too thin, many companies are unable to devote resources to crafting a candidate experience that reflects well on their employment brand, leaving candidates unsure about what a position entails or how the company operates. Allowing one entity to guide candidates through the recruitment funnel from start to finish will ensure that a promising relationship is built between the two parties.
Growth and Retention
For most entrepreneurs, the end goal of building a startup is to create a business model that's capable of growing. If you've reached the later stage of development of your venture, you've got a returning customer base, your model is well-tested, and your startup may have received multiple rounds of funding.
Your hiring needs now differ significantly from your needs as an early stage startup – in the beginning, each team member juggles multiple responsibilities, fulfilling whichever duties are required. In the later stage, many high-level employees have one specialization only, becoming an expert in their discipline. Simply put, the hierarchy of your business is now more concrete.
What does this mean for your hiring needs?
As your company continues to grow, your need for fulfilling specialized roles will increase dramatically, as will your need for general employees.
Partnering with an outside acquisition firm is the most cost-effective approach to hiring leadership, specialized roles, and high volumes of employees during busy seasons, but at this stage it may be worthwhile to build an in-house recruiting function to handle hiring general employees – especially when your focus has shifted to retention and maintenance rather than growth.
The difficulty your business faced while attracting candidates before you had a brand won't be a significant issue now – your employment brand is much stronger than it was, and candidates will seek your business out because of the remarkable success you've had growing your venture. To continue, you should once again focus on attaining candidates through referrals – the more engaged employees you have, the greater rates of retention your startup will experience.
If at any point during your journey you can use a hand growing your company, take a look at the variety of talent solutions we offer and learn more about how we can scale your business together.
What stage of a startup's growth do you believe is the most difficult to hire effectively for? Leave a comment on our LinkedIn or Facebook pages and let us know what you think!
——————————————————————————————————————————————————————————————————–
If you're in search of talent consulting or recruiting services and could use help determining your business needs, contact our team of experienced talent acquisition consultants now.